We know we're biased here at Fresh Eyes, but we really do have the best group of folks on our team. And today, we're introducing a new series to help you, dear reader, get to know our incredible Freshies a little better. First up is Fresh Eyes' Business Operations Manager Erin Riley Strong. Take it away, Erin!
How long have you worked at Fresh Eyes Digital? What's your role here?
I've been with Fresh Eyes for three years! I started as a project success manager and now am Fresh Eyes' Business Operations Manager.
What are your top three favorite vacation spots?
Spain for the food and architecture. We rented a car and drove around the entire country—it's incredibly beautiful and interesting—and so many cultures are represented in each region of the country.
Vietnam for the history, the food, the people. My husband and I spent two weeks there several years ago. We started in the north and ended our trip in Saigon. I learned more about myself, and my place as an American, than I've ever learned stateside.
Boundary Waters Canoe Area—I went this summer with four other women and, besides giving birth, it was the most empowering thing I've ever done. It's hard and dirty and exhilarating. I can't wait to go back.
What did you want to be when you were growing up?
A stage manager for a regional theater — which transitioned nicely into business ops!
Who is your celebrity crush? 
Elizabeth Warren. I deeply crush on her brain and her empathy. She is an amazing political leader and a woman I admire. Everyone should read her book!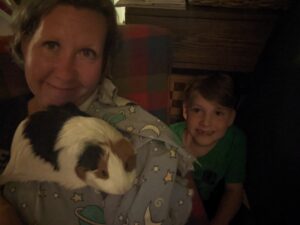 Are you a dog person? A cat person? Neither?  
I have had cats and dogs, so I refuse to choose. I currently have a guinea pig named Lovey and she's the quirkiest, cutest thing.