Once upon a time, using new email technology to reach audiences with compelling messages was considered revolutionary. Soliciting donations with a few clicks of a button – what could be simpler?
Of course, digital marketing and fundraising tactics and tools are more sophisticated these days. To build stronger connections with your supporters – and maintain and grow your program – you need a data-driven email segmentation strategy.
Email segmentation allows you to create and send personalized messages to different groups among your broader base. It's a common but still incredibly effective way to personalize your nonprofit's communications for different portions of your audience.
Generally, response rates for digital fundraising improve with personalized content. During end-of-year fundraising season – a critical period for nonprofit giving – you can increase the likelihood of gifts with tailored messaging. But it's not always necessary. You're already dealing with a high volume of messaging and might be stretched thin, so don't go overboard! Consider whether the extra effort of creating unique content and segmenting your lists is worth the return.
That said, here are a few examples of email segmentation strategies you might consider employing this end-of-year fundraising season.
Current donors
You already know this segment of your audience is invested in your work. Now is the time to up the ante and customize their messaging to motivate them to give again. Even among your current donors, you can segment by gift recency, gift frequency, gift amount and more, referencing those details across your year-end campaign emails. But even without a more detailed segmentation strategy, you should still reference their status as a donor, what their past support has helped your nonprofit achieve thanks to donors like you, and the important work that their donation right now will help you achieve in the year to come.
Donors who gave during last year's year-end fundraising campaign
You can appeal to donors whose last donation was last December by referencing their previous support and asking them to renew their support to help you meet your campaign goal. You'll want to reference the amount of their last gift and add any details you can about the impact of their past donation. You might also choose to ask them for a slightly higher gift amount this year to boost your average gift amount.
Monthly donors
You'll want to be judicious about how many year-end appeals you send to sustainers who already give monthly. We recommend that you exclude them as a segment from most of your year-end campaign emails. But you can loop them into a few sends, especially those around match announcements or match increases. In those messages, you should personalize the content by referencing their generous sustained support and asking them to make a special one-time gift to help you meet your fundraising goal.
Non-donors
Just because non-donors haven't given to your organization doesn't mean they shouldn't receive a personalized ask! Appeal to these potential donors with content that makes your strongest case for giving clear. Why do you need them to give? What makes giving right now especially urgent? And why is your organization worthy of their support? You should also personalize the fundraising ask by asking them to make their first gift today.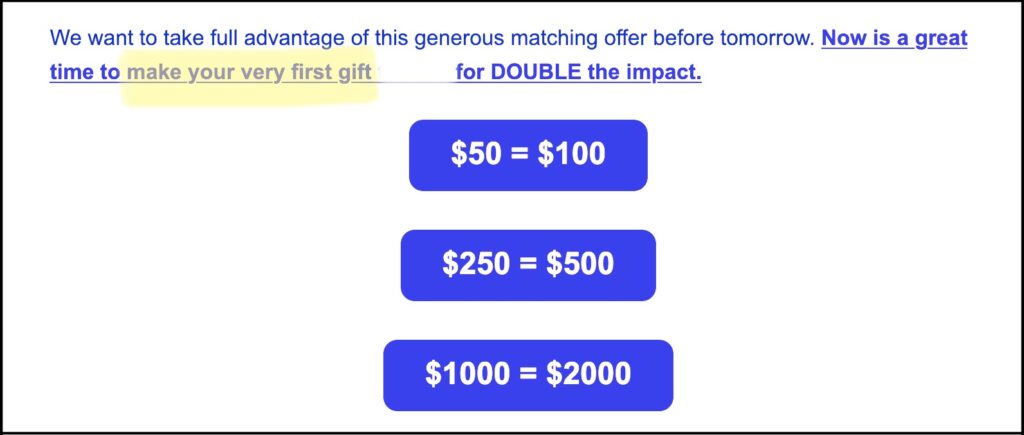 The options are seemingly endless – and your digital program's data can help you see which segments of your audience might be the ripest for engaging with personalized content. As a reminder, you'll want to closely track your segments' fundraising data throughout your campaign so you can further refine your segmentation strategy down the line!
Interested in learning more about cultivating and stewarding your nonprofit supporters? Want to learn more about data hygiene and analysis? Reach out to learn how we can help!