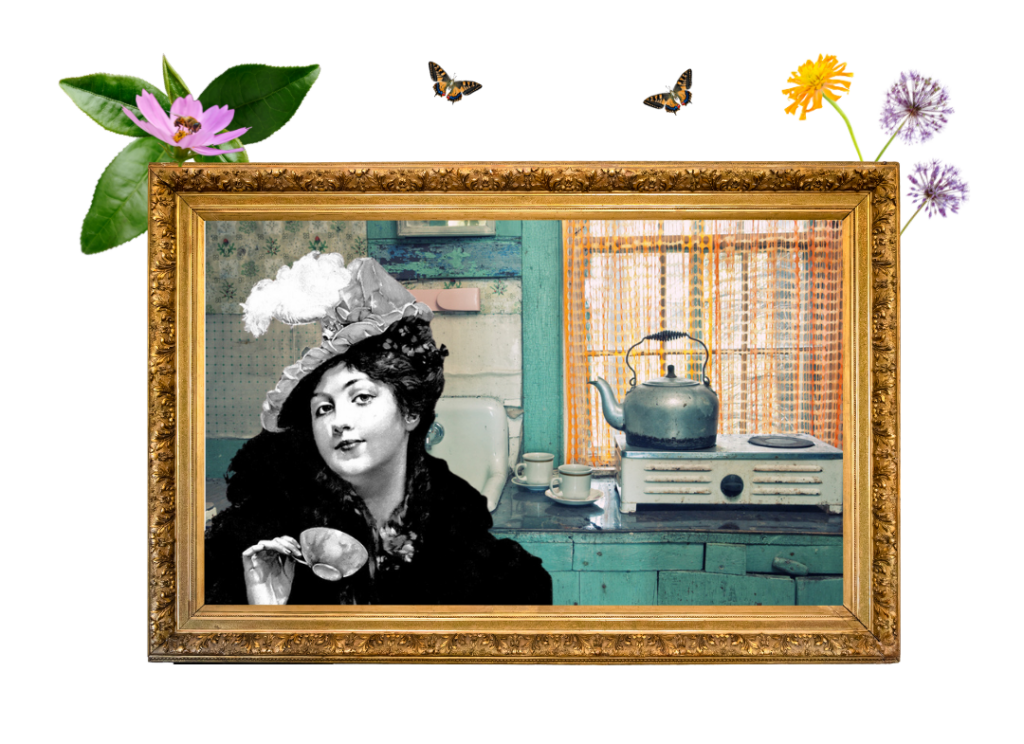 Did you hear? Our friends at M+R released their 2023 Benchmarks Study!
After the new benchmarks are released, it's always a crazy time — a veritable frenzy of nerdiness. Our data team makes it their job to nerd out on this every year, often using our clients' internal benchmarks and M+R's benchmarks when we take a look at their digital programs.
So I wanted to do you a service: I spent about three hours (in itself, a data point, as we log our time over here!) poring over every chart, bullet, and decimal point, mining the data from 215 nonprofits to provide you with what we see as the big headlines. (One might say the golden nuggets … get it? Mining the data?!)
Before diving in, I must first acknowledge the most significant headline. On average, online revenue declined by 4% in 2022.

Even if you've only skimmed the latest benchmarks report, you must have absorbed that one. And we feel your pain; trust us. But there's more to unpack! So without further ado, let's get started.
Monthly giving offers a salve for our wounds.
Look, we need a little positivity around here after the year we all just had. Luckily, the data points on monthly giving in this year's study give us a welcome glimmer of hope – and a good reason to invest more in monthly giving programs in 2023.
2022 truly was a hard year for online fundraising. Overall revenue declined by 4%. Email revenue fell 14%. Email fundraising response rates decreased by 18%. But monthly giving revenue increased by 11%!
We've been talking for years about the growth of monthly giving, so seeing strength here isn't surprising. But seeing double-digit growth in a year when so much decreased is remarkable and a strong sign that you simply can't avoid putting a focus on your monthly giving program anymore.
We also see in the latest benchmarks study how much more valuable a monthly donor is compared to one-time donors. While one-time donors give an average of $192 per year, monthly donors provide $287 per year.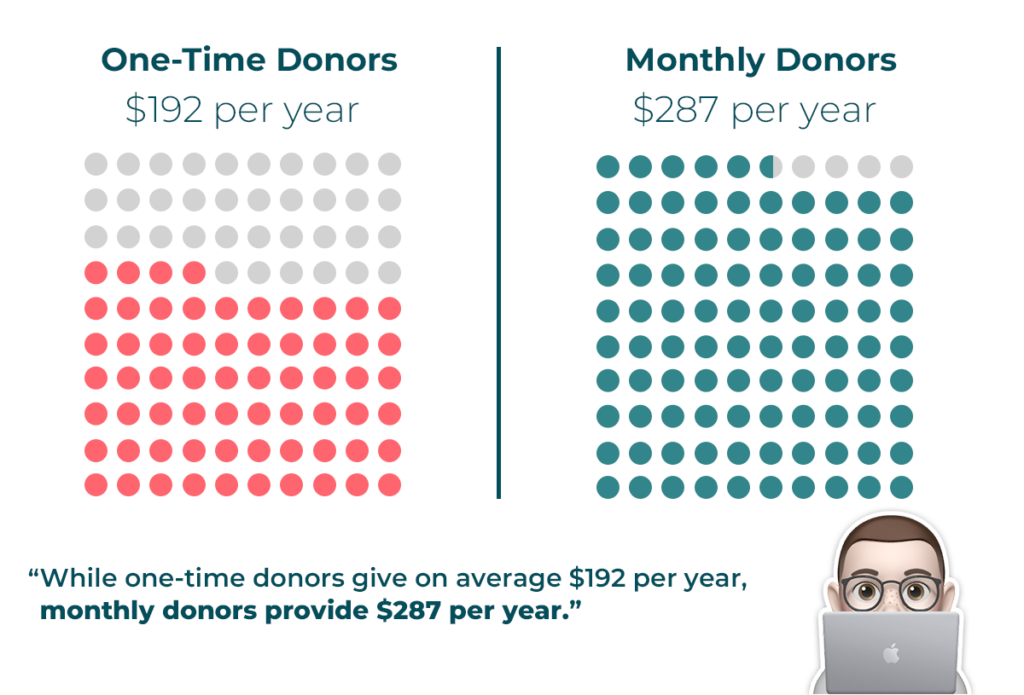 You may have noticed that while small- and medium-sized organizations saw their online revenue decline in 2022, large nonprofits saw a year-over-year increase. But did you see that this was all thanks to monthly donors? For large organizations, revenue from one-time donors declined – so monthly donors really did save the day for those organizations.

We've seen these benchmark findings play out among our own clients this year. In two different monthly giving campaigns, one organization received 57 new monthly gifts over a month's time. Another produced 64 over the same timeframe.
We keep having to work harder for every dollar.
Hey, I started my first online fundraising job just two months before Facebook was released beyond college campuses. I've seen online fundraising grow from a trickle to a deluge. But I've also seen the competition for our attention go from incredibly fierce to absolutely dizzying.
So, the need to work harder to get supporters' attention and drive donations has been a mainstay for a while, but the 2023 benchmarks study makes clear that the increased effort is still worthwhile.
The average amount raised per 1,000 fundraising emails sent declined by 15% overall in 2022, and every sector other than Disaster/International Aid saw double-digit declines. To help make up for that decline, nonprofits increased their email volume by 15% and mostly still saw declines in email revenue.
Last year's Apple's privacy changes mean it's very difficult to know how many people are opening our emails. But we can see that unsubscribe rates have gone down year over year. That very well could be a good thing (they like our emails more!), but we often see unsubscribe rates go down whenever open rates go down. So a lower unsubscribe rate could mean fewer people are opening our emails.
To take that one step further, lower unsubscribe rates could indicate that people aren't just feeling less inspired to give – they're also disengaging more and more. That means we have to work a lot harder just to get attention, let alone dollars.
We see signs of how hard you have to work for every gift beyond email as well — which brings us very neatly to our next headline.
Facebook has hit a rough patch (at least!).
We've been seeing the effectiveness of Facebook (fine … Meta) fundraisers and digital ads decline over the past several years, especially in 2022. Their repeated scandals certainly played a role in the rollbacks we've seen in recent years in its ad targeting options. And Apple's privacy changes (largely designed to mess with Facebook) combined with the slow move to a post-cookie world haven't helped either.
While the 2022 benchmarks study didn't provide as granular a look at the digital ads landscape as this year's (which makes year-over-year views of Facebook ads' effectiveness challenging in many places), the 2023 report acknowledges the continued difficulty nonprofits are having in reaching their audiences. Across sectors, the wide range of Facebook's return on ad spend (ROAS), between $1.07 for Hunger/Poverty and $0.17 for Rights, points to just how unreliable the platform has become lately.
And while the strength of Facebook fundraisers as a source of revenue was a bright spot in benchmarks a couple of years ago, revenue from fundraisers declined 20% in 2021 — and another 34% in 2022.
We suspect that this trend will turn around as the economy brightens. It makes sense that a form of fundraising that relies on individuals asking their friends and family to make donations in such a visible way would reflect the general mood about the economy.
Google Grant and Google Paid ads are completely different beasts.
I've long held that Google's nonprofit grant program was created as a way for Google to pump up its ad revenue by adding a solid chunk of volume that will boost its keyword bidding costs.
And we've also long known that Google prioritizes paid over grant ads — among other things, it's evident in Google's automatic placement of grant ads below paid ads in search results. But it is still striking that ROAS for paid Google ads is 39 times higher than grant ads. 39 times higher! Paid ads provide $2.75 in direct revenue for every dollar spent, compared to grant ads, which provide just $0.07.
Some of you might say, "But grant ads are free." And you have a good point! But the problem is that search placements are finite. You can't keep increasing your Google ad spend as much as you want, because you can only reach as many people who are actually searching for your group, cause, or issue. And there's a strong chance that nonprofits could raise more funds (net) through paid search ads than through the grant.
We recently shared our recommendations for a successful year-end fundraising season in 2023 based on findings from our clients and industry news. Investing in Google search ads was among our top recommendations based on some of our clients' strong results, including one that raised more than 10% of its overall year-end online revenue through paid Google ads. That advice bears out in the latest benchmarks report — one of several hopeful nuggets of gold amid the challenges laid out for us.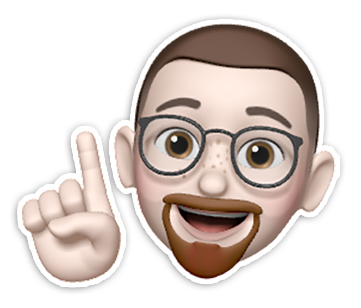 While there are some hard truths to swallow in this year's benchmarks report, there are also bright spots of possibility and promise for the year ahead. If you're ready to turbo-boost your digital program and uncover new ways of reaching your nonprofit's goals, please drop us a line — we'd love to hear from you!
Credits
Lead author: Daniel Buckley
Editor: Bettina Ramón
Visuals: Thelma Andree and Bettina Ramón